I had a sluggish week, hope all of yours was better, but that is okay detoxing helps to rid those toxins and I am doing better. With all of the toxins in our world today we should detox at least once a week. There are various ways to detox, but there are two I am fond of and believe they do an excellent job of removing toxins from my body. One is the foot bath ionizer for over all detoxification, and the other is the rebounder (mini trampoline) which detoxifies the lymph nodes. You can read more here on the importance of detoxifying your lymph nodes and why the rebounder works.
Stay tuned for my next blog on my rebounder and how I use.
And now on to this week's link up party.
For my features this week I have to pick the DIYs, I love creative people who can see the potential an item has for another use.
My number one pick is from Altered Artworks I never would have thought to use an antique dust pan for a magazine rack, totally love
Alter a Vintage Dust Pan into a Magazine Holder.
My second pick comes from the Hickory Tail blog on
Decorating With Lanterns
what a fun idea and so versatile, now I want some.
My third pick is not really a DIY, but I thought she had a great idea for the use a grain sack from Little Brags
Decorating With a Grain Sack.
If you have been featured please grab the I was featured button.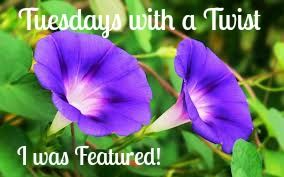 Okay so remember only family friendly blogs which will appear on three different blogs our host Mary from
Back to the Basics,
and two co-hosts my self and for the rest of the month Marci from
Stone Cottage Adventures.
Do show some love and visit at least a couple of other blogs. Leave a comment to let them know you followed them to their blog from Tuesdays With a Twist. It is always nice to know where someone found your blog.
All posts welcome old, new, and everything in between from Tuesday morning, and here is the twist until midnight Saturday. Also be a dear and grab our button up top to put somewhere on your blog so others can join in, thanks.