It's that time again Tuesdays With a Twist, post whatever family friendly posts you have we take them all, old, new, and everything in between. This link up ends Thursdays at 11:59 PM. Be sure to check out the Real Food Fridays link up as well, starts on Thursday at 6:30m pm est.
Your host is Mary from
Back to the Basics
and
Mary's Kitchen.
Co-hosts include Marci from
Stone Cottage Adventures
, Angie from
God's Growing Garden
, and me from It's Your Life.
Just found out we have a new co-host, please welcome Mindie from
The (mis) Adventures of a "Born Again" Farm Girl.
To funny I featured her this week and had no idea she was going to be a new co-host. Well, Mindi guess you got a wonderful welcome.
I decided to do two features this week, my first comes from The (mis) Adventures of a "Born Again" Farm Girl and her post on
Backyard Bees? Maybe.
Bees are important for pollination, and it is evident there is a lack of the honey bee.
My next featured blog comes from Sew Crafty Angel and her blog on
Words Hurt
. We have to be so careful how we speak to children it makes a difference to their future.
If you have been featured please grab the featured button.Visit the co-hosts blogs to see if you were featured.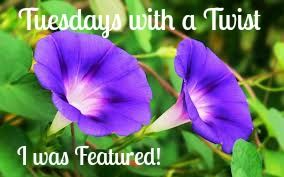 Be sure to visit some of the other blogs, leave a comment and let them know you followed them there from Tuesdays With a Twist Link Up.