I'm so excited for this week's link up, we have a giveaway from
Kelani Organics
. Here is a little about Kelly the owner and her business,
Kelani Organics.
I'm a one woman small business. My Hawaiian Heritage makes the ocean, soil, and Aloha run through my veins. 3 years ago a mentor changed the way I live my life and I now strive to help make the world a better place with organic and natural products.
Handmade to Order using sterilized recycled containers when possible to do my part for the environment. Natural Remedies, Organic Beauty Products and more, and Natural (Non-Toxic) Cleaning Supplies. Mahalo for visiting, please enjoy browsing my different shop sections.
Kelly has generously donated three items to be given away to one lucky winner.
Next up we have Organic Sore Muscle & Joint Rub.
Lastly Natural Hand Sanitizer.
Can't wait for the giveaway want to purchase something now. Well today is your lucky day Kelly is offering 10% off all orders until April 1, 2014 with promo code
GIVEAWAY032014.
a Rafflecopter giveaway
Deadline for giveaway is March 20, 2014 at midnight.
D
O
NOT

LINK UP UNTIL YOU HAVE READ THE RULES.
Rule #1
If your ingredients do not have the following labels on it, or the ingredients are not listed as organic, filtered water, or cane sugar, you are using genetically mutant ingredients, sorry to burst your bubble.
Rule #2
However, if you list your ingredients as just sugar, pepper, flour that is exceptable. Images that include non-organic brands will be deleted. That means if you have a picture of what you used, and I see Kraft, McCormick, etc the post will be deleted.
Rule #3
Bloggers only.
The purpose of this link up is to help others change from genetically mutant foods to real foods. If you are not eating organic, you are consuming GMOs that are void of vitamins and minerals.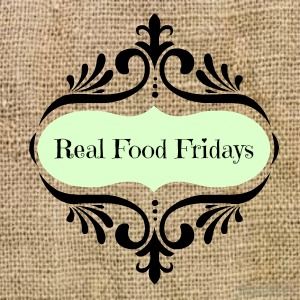 Your hosts are Mary from
Back to the Basics
, and
Mary's Kitchen
along with Joyce from
It's Your Life
.
Your co-hosts are
I love that we are growing, and thanks to those who post every week.
My Version - Good Girl Moonshine
from Deep Roots at Home.
Feeding an Adopted Baby Without Commercial Formula
from Mindful Mama.
How to Feed Your Dog (Better) for Free
from Modern Vintage Housewives.
Going Organic on a Budget: Coupons
from Back Home Again.
Check out the new Facebook group for
Real Food Bloggers,
join us and share your posts. If you have been featured on any of the blogs hosting/co-hosting this link up your post will be shared on the Facebook group and pinned to the
Real Food Fridays board on Pintrest.
Feel free to link up your real food posts, bloggers only please, family friendly posts pertaining to anything related to real food, or health related link ups/blog hops.
Party runs Thursday night through Sunday at midnight.
Please grab the button, and put it somewhere on your blog so others can find us.
If you would like to be a co-host, for a week, a month, or whatever, email me at edjumpoff@yahoo.com.